Gallery House
Singapore
Gallery House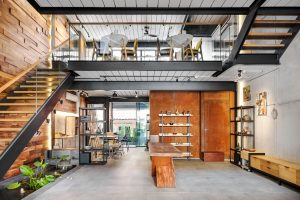 Delight and innovation are interplayed in Gallery House, both in the pursuit of a sustainable equatorial intermediate terrace house architecture.
Delight is a driver for the main atrium's split floor system, which serves as a communal zone rising above the art gallery. However, a spin off from this spatial arrangement is the creation of a light shaft for natural lighting, which promotes passive cooling using concepts of heat stack effect and cross ventilation. This concept of leveraging upon the environment even applies to rainwater management, as the system brings in runoff from the roof via an interior water feature that spans the length of the development, this aiding to some extent in passive cooling as well through introduction of the cooler rainwater into the interior spaces.
Finally, as a truly Singaporean development, Gallery House expresses the materiality of off-form concrete as well as timber (from locally sourced discarded raintrees), and pairs them with the buildability of steel beams, columns and floors. Showing not only a proposal, but an example of a Singaporean craft.